Brasov City Romania
English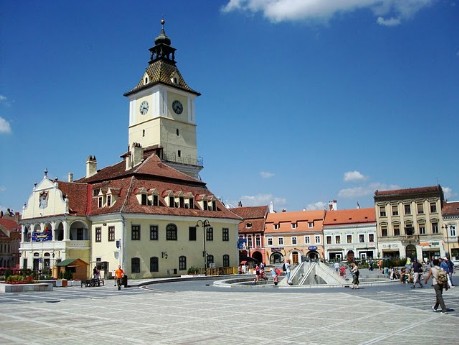 Brasov

county seat with the same name, is located in east central Romania, the Tampa hill at an altitude of 967m. Administrative territory of Brasov lies in the south of Brasov Depression, at the northern border of the Carpathians.

The main attractions are the ancient fortified city, Participation Schei, where you will find a number of old houses and an impressive wealth of antiquities and ancient objects of worship.
Brasov is one of the most visited places in Romania, close to Poiana Brasov ski resort and summer. During winter months, offering some of the best ski conditions in Romania.

Located in the heart of Romania, Brasov benefits from the influence of ancient history. Brasov is a favorite tourist destination in Romania. Just 13 km from the city, above the mountains, you can find a unique winter resort: Poiana Brasov.
Winter sports, mainly skiing and snowboarding, winter season brings thousands of tourists from all over Europe. Sleigh, with jet ski or skating are just some things that you can enjoy visiting Poiana Brasov.
The Brasov Square is considered a symbol of Brasov with the Black Church. Located in the Old Town Square was a shopping center, social and cultural city, within several centuries. Discover the history of the medieval city of Brasov, you relax in nature walks or mountain climb.
Exploring the local attractions and Graft Bastion, The Black Church Bastion, Rasnov medieval fortress, Dracula's Castle and the first Romanian school.
Cultural Sightseeing Brasov
Black Church - is the largest Gothic building in Romania, and owns the largest organ in Europe.

Black Church was built in Gothic style, and dominates the city of Brasov with its size. The name was originally St. Mary Church, but was changed to the Black Church after the fire which occurred in 1689 when its walls were blackened by smoke.
Old City of Brasov - fortified building executed in wood and stone, now converted into a restaurant.
Bastion - a building unique in its kind in Romania, one of the seven best preserved 16th century bastions of the fortress, there are now finding Brasov Fortress Museum.
Hirscher House - known as the Merchants' Hall, built in Renaissance style in 1539-1545.
First Romanian School - there are exhibitions of printing history, and ancient manuscripts, editions, printed works of cores. Here we find a classroom of first Romanian school in Transylvania.
Church St. Bartholomew - the oldest architectural monument of the city, built in the mid-thirteenth century in Gothic and Romanesque styles.
Council House - dated XVsi century dominates the old town. Today can be found here History Museum of Brasov county, divided into four sections: archeology, medieval history and contemporary modern.