Bran Castle - Dracula's Castle
English

Situated 30 km from Brasov, between the Bucegi Mountains and Piatra Craiului, Bran Castle is an important national monument and benchmark tourism in Romania, due to both its beauty, landscape, as well as the Dracula legend, whose spirit still follow up these ancient places.
Many legends are related to Bran Castle. It is said that this castle was owned Count Dracula (Vlad the Impaler), but there is no proof in this respect. Vlad Tepes lived only for a very short time and only in the castle as a guest. On 1 December 1920 the city of Brasov donate Bran Castle Queen Marie of Romania Mari as a sign of gratitude towards the contribution to the Great Realisation Union from 1 December 1918.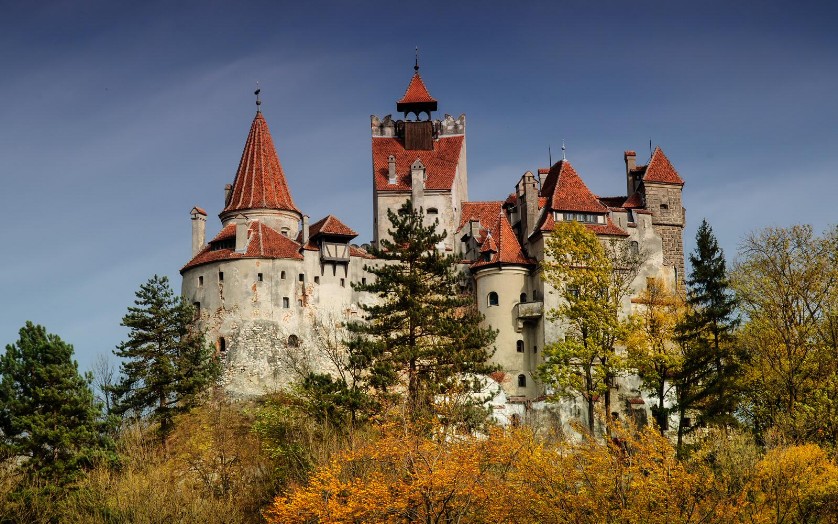 Dracula
's
Castle was built at the edge Bran step, in the days and today represents a bait for visitors from everywhere who will take part in Dracula legend. At the end of the XV century fortress Bran is subordinated to the authority Szeklers committee, responsible for defending the south-eastern Transylvania, and during Iancu of Hunedoara passes under the leadership Voievodeship Transylvania. Along Fortress Bran time he made a role of defender against the Turkish invasion.
The first documentary attestation of Bran Castle is the act delivered on 19 November 1377 by Louis I d'Anjou Brasov that the privilege to build Fortress "with their own work and expense." Instead, the king confirm the subordination of the 13 localities against the Citadel. Executives Fortress Bran was committed castel who have jurisdictional powers and permanent garrison was composed of archery and balistari. Between 1419-1424, Fortress returned in Sigismund's possession.

Between 1920-1927, Bran Castle was restored under the leadership of the Royal Court architect, Carol Liman, who is transformed into a beautiful summer residence, surrounded by park, with alleys of the promenade, lake, fountains, terraces of rest, building and Casa tea. In 1938 Queen Mary will leave by Bran Castle, with the entire field, her daughter Princess Ileana, it take possession until 1948.
After the expulsion from the country of the royal family, in the year 1948, Bran Castle entered the property of the Romanian state, remaining a perioaada abandoned and devastated. Since 1956 the castle was opened as a museum of history and feudal art. Being in an advanced state of decay, in the year 1987 comes into Castle restoration work ended in broadly in 1993. The finish organizing museum will be done by November criteria, the result of research in recent years.