Peles Castle - Sinaia
English

Peles Castle
- b
uilt between 1873 - 1883 (first floor) and between 1896 and 1914 (second floor), by Carol I of Hohenzolleren - the first king of Romania (1866 - 1914) in German Renaissance style, according to the plans Viennese architect Wilhelm von Doderer and the German Johann Schultz in Lemberg (Lovov), with changes and additions made by Gothic Czech architect Karel Liman in the years 1896 - 1914, comprises 160 rooms and a central tower of 66 m height. It was the royal residence in summer (until 1947) and today houses a museum with collections of paintings, sculptures, armor, carpets, furniture, tapestry etc.. Peles Castle near Castle was originally intended Pelisor Prince Ferdinand I, now a museum. Photo Gallery

Works to build a summer residence of Prince Carol I of Romania have started since 1873, on land privately owned by a sovereign, originally called the royal domain in Sinaia. The site of Valley Pelesului gathered at one time, nearly 300 workers and can be considered the most important of the Old Kingdom in the past century. The construction was financed from the private box of Carol I, and the civil list. Costs 1873-1883 phase, both for construction and for decorative works were raised to the amount of 6.5 million lei-gold, and overhead costs, until 1914, the amount of 16 million lei-gold.
Artistic heritage of the castle is divided into several categories: wooden decoration, furniture, stained glass, and weapons collection and decorative art.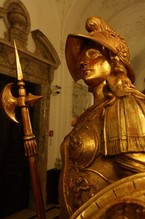 The collection of weapons includes over 4000 pieces can be divided into parade weapons, hunting. These arms and fire are from parts of the XV century until the XIX century.
Furniture art that decorates the room castle includes most original pieces dating from the XV century the century, made in workshops known European Mainz, Munich, Vienna and Hamburg.
Stained glass windows were purchased between 1883 and 1914. Some of them are original pieces of Swiss and German of the XV century, the XVIII century, other dates from the XIX century and early XX century the century - the stained glass was worked in the workshops of Zettler and Zwolfer.
In the field of distinguished art original paintings and signed by Ernest Gustav Klimt, Franz Match, Dora Hinz and even Queen Elizabeth, and several children after famous painters.
Final project, proposing a building with the look of a chalet, as was seen in the period, matched the artistic taste and vision, and financial possibilities of the owner. The building has been achieved in the 1879-1883. Interior decoration was predominantly German-style, only two rooms diferind style. Choosing German style was both an expression of taste in fashion in the 70 years-XIX century in Germany, and illustrate his aesthetic beliefs Carol I.

In Europe, the Peles Castle in Sinaia, summer residence of kings of Romania, has a good profile determined. Create a taste of King Carol I and the science and architects Johannes Schultz Karel Liman and decorators of the prestigious JD Heymann Hamburg, August Bemba of Mainz and Berhard Ludwig in Vienna, Peles Castle may be considered the most important building type History of Romania, with unique character. Also, it is by its historical and artistic, one of the most important monuments of this kind in Europe for the second half of the XIX century.
Visiting hours: Wednesday 11-17, Thursday - Sunday between 09 - 17

Address: Str. Pelesului No 2,
Sinaia,
tel. 0244.310.918, fax. 0244.312.416