Transfagarasan Route Romania
English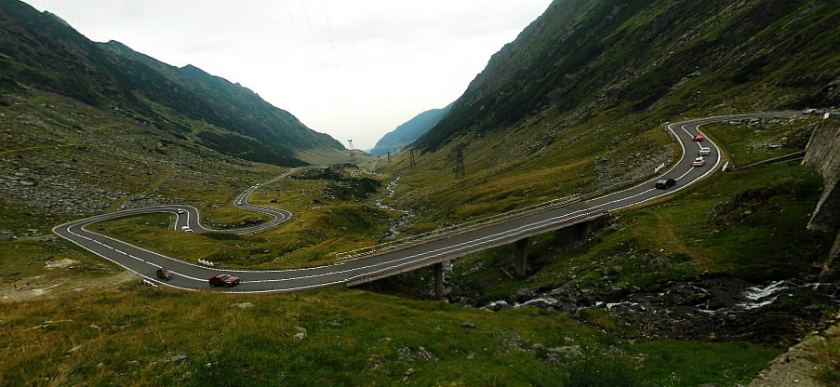 Transfagarasan route
stretches over a length of about 90 km on two lanes. Directorate recommended for traveling over it with the car is from south to north, due to the steep northern slope of the Fagaras Mountains. The route is particularly due landscapes encountered many dangerous curves, big differences of level, cliffs and steep ravines and waterfalls. Accommodation on Transfagarasan.
The landscape is very beautiful and at the same time having wild side cliff on an area of 9 km. Because the route is located in the tallest of the country, it can be crossed only in summer. Transfagarasan route connecting Muntenia and Transylvania between Sibiu County and Curtea de Arges. The route presents a great attraction for tourists due to the fascinating landscape created by glacial landscape. Here we meet Vidraru and Capra lake, cottages, resort and cable Cumpăna, waterfall and Balea lake.
Transfagarasan route begins in Arefu locality, Arges county, at kilometer 61 of DN7C and ends in the village Cartisoara, at the junction with DN1. It has about 90 kilometers long and two lanes. It's an uphill road with many switchbacks. It has more tunnels and viaducts at Balea lake passes through the longest road tunnel in Romania Balea Tunnel. In the tunnel there is only one lane that has 6 meters wide and one meter wide sidewalk. The tunnel is artificial lighting. Road traffic is closed from late October until June because of snowy road. During the winter transfer from Balea waterfall to Balea lake can be done with cable over a distance of 3800 m.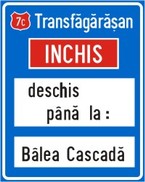 Capra-Balea lake road tunnel crosses Paltinul mountain between 2,025 and 2,042 meters shares. With a length of 887 meters, is the longest road tunnel in Romania and the tallest building designed to transport the car in Romania.
Gallery has four and a half meters, and flow is for a single lane in both directions.
The tunnel is has natural ventilation and artificial lighting. Balea glacial lake formed in a cirque and lies between Olt Defile and Piatra Craiului.
Located at 2,000 meters, the lake has an area of over 360 square meters, and the deepest place reaching 11 meters. Since 1932 over the lake and about 200 acres around it were declared scientific reserve. Nearby was built, in 2006, the first ice hotel in Eastern Europe.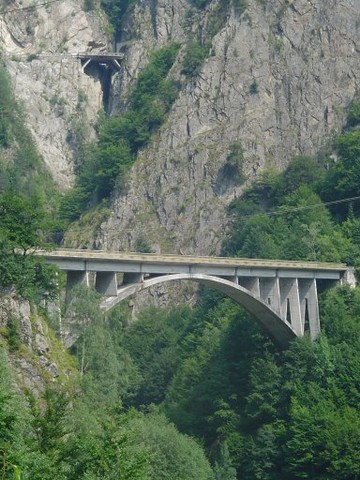 Balea Waterfall, located at 1,200 meters altitude, is one of the best known in Romania. Water flows over rocks from a height of 68 meters and thrill lovers can ski down right next winter waterfall. In summer you can get here by car, and after the road closes on November 1, visitors can ascend by cable car from the chalet Balea waterfall.
Vidraru lake
, with a height of 166 m and a length of 307 m, stretches for a distance of about 10 km in the form of a circular arc, an important element in the landscape of the Transfagarasan. Construction on the Arges River ended in 1966, ranking it at the time one of the largest dams in Europe and the world. Lately appeared more hostels and lodges around the lake, some of the recreational opportunities to attract tourists.
Because of steep slopes by car speed is very low. Along the route were built 27 bridges and viaducts and a tunnel with natural ventilation due to currents that form, goat Balea Lake, 887 meters, which traverses the Paltinul mountain.
Route Map Bucharest - Transfagarasan, Google Map